It's that time of the year! Graduation time! Want to look your best? These products are a must-buy!
ZAP ZITS QUICKLY 
ACNEFREE MAXIMUM STRENGTH TERMINATOR 10
Don't let a zit (or two) stand in the way of perfect photos. This dermatologist-recommended acne medicine absorbs faster and deeper to eliminate bacteria and fight breakouts between applications. Micro-sized Benzoyl Peroxide minimizes the over-drying that can occur with ordinary benzoyl peroxide. Triple-action power of chamomile, ginger and sea whip soothes and reduces redness.
I received a sample of this one and although my face no longer breaks out too often…I did have the opportunity to try it out on one stubborn pimple and it works great!
BUZZ AWAY UNWANTED HAIRS 
FINISHING TOUCH FLAWLESS COLORS
The new gold-standard in women's facial hair removal, Flawless instantly and painlessly sweeps away unwanted hair with a new spinning technology destined to make painful plucking or waxing obsolete. Flawless is so gentle it can be used every day without risking redness or irritation to skin, and there is no downtime waiting for regrowth to remove hair.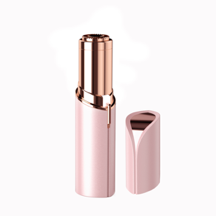 MASK AWAY IMPREFECTIONS
VICHY MINERALIZING MASKS
Prep skin for the day you have been waiting for with Vichy Mineralizing Masks. If you have troubled skin, reach for the Mineral Pore Purifying Mask to de-clog pores. Dry Skin? Go for the Quenching Mineral Face Mask to instantly increase hydration. If you need a little extra boost, go for the glow with the Double Peel Mask.
SLEEPING BEAUTY HAIR
SHU UEMURA ART OF HAIR ESSENCE ABSOLUTE OVERNIGHT SERUM
To ensure gorgeous locks for prom night, start your hair routine the night before by enhancing strands while you sleep. This hair treatment works overnight to deeply nourish your locks, allowing you to wake up with strong, soft touchable hair perfectly primed for your prom style of choice.
Self Disclosure: I received a sample of ACNEFREE MAXIMUM STRENGTH TERMINATOR 10 to try out. No other products were received. Images and information were also provided.