GRAMMY-winning singer-songwriter Shawn Colvin released her Amazon Originals album this past February, The Starlighter, an album of songs adapted from the children's music book "Lullabies and Night Songs." The Starlighter is available exclusively for purchase and stream on Amazon Music.

Two other music videos – of the title track, The Starlighter," and "Minnie and Winnie" – have been released so far. These videos are based on Victorian paper theatres and the illustration style of children's books from the same era, and were created by the Manchester, UK/Los Angeles-based motion design studio WeFail. Each scene contains over one hundred layered illustrations, and every element in the video was drawn using a digital tablet before being animated by hand.

This is fun music that young children will love! ~SoCal City Kids.

More about The Starlighter

As an eight-year-old girl growing up in Vermillion, South Dakota, Colvin's mother and father presented her with "Lullabies and Night Songs," a children's music book that joined famed 20th century American composer Alec Wilder's arrangements with the fantastical artwork of "Where the Wild Things Are" author and illustrator Maurice Sendak. In 1998, on the cusp of becoming a parent herself, she returned to its pages for her album, Holiday Songs and Lullabies, which featured updated takes on several selections from Wilder and Sendak's book.

Now,19 years later, she has revisited the book once again for her newest release, The Starlighter, Colvin's tenth solo effort overall. The album finds the GRAMMY-winning singer, songwriter and guitarist reaching into her past in the service of crafting a fresh and thoroughly unique offering—one that resonates with the warmth and tenderness of poignant familial experience and remembrance.The Starlighter's 14 tracks are a mix of traditional numbers and children's standards, all of them culled from the pages of Wilder and Sendak's transformative book.

The selections from "Lullabies and Night Songs" that Colvin chose for The Starlighter run the gamut from traditional fare like "Hush Little Baby" and "Raisins and Almonds," to "Minnie and Winnie," with prose by 19th century Poet Laureate of Great Britain Alfred, Lord Tennyson, and "Cradle Song," including lyrics by celebrated English poet William Blake. As for how she went about choosing which pieces to adapt, Colvin admits it wasn't easy. "There wasn't a dud among them," she says. "But we wanted to give the record some dynamics in terms of the feel, so we made sure to choose some upbeat songs, because I sort of tend toward the melancholy, slower, more hypnotic tunes."
More about Shawn Colvin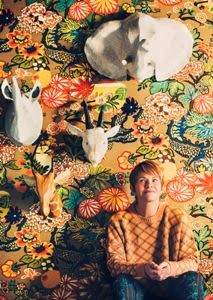 The Starlighter arrives on the heels of two recent, acclaimed releases from Shawn Colvin. In June 2016, Colvin and longtime friend Steve Earle united on the duo album, Colvin & Earle. An expanded 20th anniversary release of A Few Small Repairs, Colvin's seminal breakthrough album, was also released in September 2017. Colvin marked the occasion by undertaking a seven-week U.S. tour in which she and her band performed the album in its entirety.
This month, Colvin has embarked on a multi-city tour with Lyle Lovett. For more information or to purchase tickets, please visit www.shawncolvin.com
Connect with Shawn Colvin
The Starlighter
Track List
1. The Starlighter
2. Raisins and Almonds
3. Go Tell Aunt Rhody
4. Minnie and Winnie
5. Sleep, Baby, Sleep
6. Many Millions Years Ago
7. The Huntsman
8. The Cuckoo Is A Pretty Bird
9. Night
10. The Journey
11. Bobby Shaftoe
12. The Nut Tree
13. Hush, Little Baby
14. Cradle Song
Credit: Sugar Mountain PR. Images were also provided and a CD may have been received.